At Makovicka Physical Therapy, pain management is a top priority when it comes to helping our patients. Chronic pain is one of the most commonly misunderstood conditions facing our patients, and it differs greatly from acute pain. Acute pain is a normal sensation that alerts us to a possible injury in our body, but chronic pain may start after an injury, and can last more than 12 weeks. There is no clear cause for chronic pain, and it is often accompanied by fatigue, sleep disturbance or mood changes which can limit movement, strength and stamina, impacting the quality of life.
Our therapists with an advanced background in orthopaedic training have been successful in helping patients who have been diagnosed with chronic pain conditions such as Complex Regional Pain Syndrome, or CRPS, which are characterized by prolonged or excessive pain.
CRPS is a chronic pain condition they typically affects a limb (arms, legs, hands or feet) after an injury or trauma to that limb. CRPS is believed to be caused by an impact or damage the peripheral and central nervous systems. Prolonged or excessive pain, as well as mild or dramatic changes in skin color, temperature, and/or swelling in the affected area, characterize CRPS.1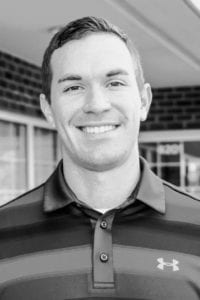 Helping CRPS and other patients to understanding pain is the first step in treating pain. Nick Weber is a physical therapist in our North 90th St. clinic, and he is passionate about helping patients with CRPS manage  their chronic pain. He begins with Therapeutic Neuroscience Education (TNE), which is a process of educating patients on what pain is, where it comes from, and why we all experience pain differently.
TNE has been proven to relieve short-term pain in patients, and can lead to improvement in many objective measures. Understanding pain can lead to significantly lower health care costs for patients.
Nick uses a Graded Motor Imagery (GMI) approach to treating patients with CRPS or chronic pain. GMI involves a 7-step process that begins with TNE and leads to cardiovascular activity and functional training. Physicians are often eager to find clinicians who are willing to work with patients who have CRPS because traditional pain medications can have limited effects for them.
CRPS patients who visit a Makovicka PT clinic for physical therapy can expect easier accessibility and extended time spent with their clinician. Ultimately they will benefit from a therapy approach that integrates multiple interventions with the goal of helping them manage their chronic pain.
If you are suffering from chronic pain or CRPS, and traditional pain treatments aren't giving you relief, give us a call! Nick is ready to help you get back in the game!
National Institute of Neurological Disorders and Stroke. Complex Regional Pain Syndrome Fact Sheet. http://www.ninds.nih.gov/disorders/reflex_sympathetic_dystrophy/detail_reflex_sympathetic_dystrophy.htm