Janet Lura was referred to physical therapy following a car accident that left her with a broken collarbone and frozen shoulder. After a negative experience trying to schedule an appointment over the phone at a different clinic, Janet decided to call Makovicka Physical Therapy on North 90th St., a clinic that she drives past daily. She was met with a friendly receptionist who quickly scheduled her appointment for the next day.
Everyone at Makovicka Physical Therapy, from the front desk receptionist to technicians to therapists, is committed to providing a friendly experience with the goal of getting our patients back on their feet and feeling good again.
Janet recently finished her therapy and shared this with us:
"I recently graduated from physical therapy after several months of therapy. I cannot say enough good things about Scott Edwards and the rest of the staff at Makovicka Physical Therapy. The clinic is small enough that I never felt intimidated. The environment is warm and laid back, and everyone on staff knew my name. I appreciated that Scott genuinely tried to understand my injury and how to help me.
I travel a lot for my job and I was concerned how this would affect my therapy. Scott showed me exercises that I could do in my hotel room using a doorway, a towel and the bed. At my last appointment, I was given a list of exercises to do at home to ensure that my success continued. I appreciated Scott's efforts to go above and beyond in these ways.
I was so nervous about starting physical therapy, but Scott and the rest of the staff immediately put me at ease. I never imagined that I would be upset to complete physical therapy, but I was very sad to say good-bye to everyone at the clinic. I am pain-free now and feeling back to normal, and I can't say enough about how grateful I am to the staff at Makovicka Physical Therapy. Thank you!"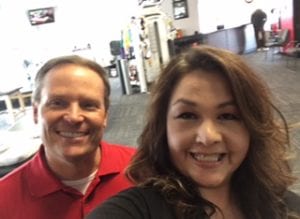 Thanks Janet – it was our pleasure helping you get back to normal!