For the second time in the past four months, Makovicka Physical Therapy staff partnered with Keep Cass County Beautiful. The group of five employees, including staff from the Makovicka PT corporate office and the Plattsmouth clinic, spent a few hours picking up trash in their 'Adopt-a-Spot' which runs from Oak Hills Road to 1st Avenue (west of Hwy 75), near their Plattsmouth clinic.  
Keep Cass County Beautiful's mission is to inspire and educate individuals to take daily actions to improve and beautify their community environment. They want to create a community where everyone enjoys a clean, green, and beautiful place to live, work, and play.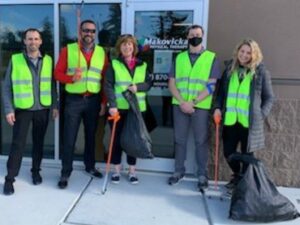 Keep Cass County Beautiful provides all the equipment needed for the cleanup (vests, gloves, grabbers, plastic bags), and as you can imagine, lots of different items were picked up in a very small, high-traffic area.  Compared to the pickup in July which was a lot of smaller items, the trash collected today was larger—lots of food containers, soda bottles, newspapers, etc. Over the course of two hours, the group collected 7 bags of trash and one large box.  
Makovicka Physical Therapy staff find the project rewarding because there is an ongoing and very obvious need for cleanup. Even if not intentional, small micro trash and other debris fall out of cars or out of trash cans and blows to neighboring businesses or the empty lots. The Cass County public appreciates the efforts, and most residents take pride in their communities.  
Community involvement is one of the value pillars for Makovicka Physical Therapy. The Plattsmouth clinic opened in 2019, and staff is involved with many efforts of area schools—Saint John's, First Baptist, Plattsmouth Elementary, and  Conestoga High School. The company is a member of the Plattsmouth Chamber of Commerce and the Cass County Economic Development Corporation.