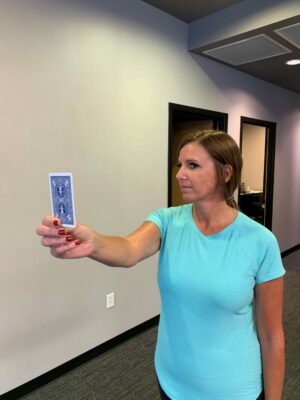 Physical Therapy/Vestibular Rehabilitation Therapy Intervention Case Study
Susan was an active 46-year-old working mom and wife when her life changed drastically. While running outside one day, she tripped and fell, hitting her head and face resulting in a concussion, as well as sustaining a left cheekbone fracture and left facial stabbing, burning pain.
She presented to physical therapy—about six weeks after her fall as she continued the recovery process. She complained of headaches, face and neck pain, nausea, motion sensitivity, and fatigue.
In addition, Susan had difficulty concentrating, some fogginess, and sensitivity to loud noises. She could not drive, experienced balance difficulties, and could not work or care for her family at home.
She could not walk and turn her head without losing her balance. Performing anything with her eyes closed (like showering) and having to rely more on her vestibular (inner ear) system was very difficult. During physical therapy sessions, she had difficulty focusing on a target while moving her head. Even simple activity in the clinic was challenging and headache-producing.
However, with an individualized Vestibular Rehabilitation Therapy (VRT) program and a multidisciplinary approach, she began to experience improvements in many areas. A sampling of her physical therapy included aerobic activity, specialized head and neck movements to improve gaze stability, balance activities, eye exercises, obstacle courses, concentration games/word searches, ongoing education and recommendations, and even exercises with a disco ball!
Susan has continued to progress in her healing journey and now performs more advanced vestibular/balance activities in physical therapy. She has returned to driving and is back to work nearly full-time. In addition, she once again enjoys watching her son's sporting events, hosting birthday parties, and traveling