Don't let the effects of hip flexor tightness sideline your training program.
With spring approaching, runners will be logging extra distance to increase their mileage by hitting the pavement.  As these miles add up, we typically start to see a lot of hip flexor pain and tightness.  Hip flexor tightness is a common cause of many posture problems.  In distance runners, overuse of these muscles and under-use of the glutes increases the pain and anguish in this population.
The primary action of the hip flexors (iliopsoas) is to bring up the thigh towards the stomach.  With tight hip flexors, the result is an exaggerated anterior pelvic tilt (the lower back increases it arch while the person's backside sticks out more). While the upper back curves and rounds, the person's chin can protrude forward possibly leading to cervical pain.  In addition, tight hip flexors may work the abdominals, making it more difficult to experience the full benefit of abdominal exercises.
Finally, tight hip flexors can lengthen and weaken the primary hip extensors and gluteal muscle groups.  A primary cause of hip flexor tightness is due to the fact that while running, the glutes are not as actively engaged as other muscles.  Because of this, the hamstrings, quadriceps and calves get stronger due to more frequent and prolonged activity.
Below is a picture of a hip flexor stretch for the right side and should be done on both sides. Other stretches include the lunge stretch that can be done on your own where you lunge and let your back knee rest on the ground while sinking your hips forward.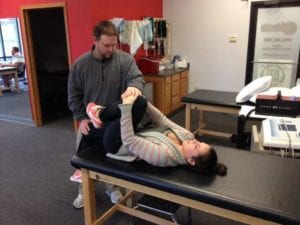 Like us on Facebook
Follow us on Twitter
Scott Keenan PT, DPT, OCS, CSCS
Clinic Director
Makovicka Physical Therapy
Maple Clinic
3830 N. 167th Court
Omaha, NE 68116