Lincoln, Neb. —Landon Booker PT, DPT, CSCS was recently named Clinic Director of the Makovicka Physical Therapy clinic at 70th & L Street in Lincoln. Booker has been with the company for three years. Along with being Level 1 certified in Functional Dry Needling, he has unique expertise to assist patients in their recovery and rehabilitation from injury.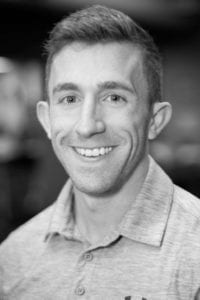 Booker utilizes blood flow restriction training which is highly suited for rehab to safely and quickly increase strength and muscle size without overly stressing healing tissues. In addition, he is one of few providers in Lincoln with an isokinetic dynamometer which he uses to help determine readiness of athletes to return to sport following injury, especially ACL reconstruction and knee ligament injury.
"Landon Booker has a passion for staying up to date on current research in the field of physical therapy and rehabilitation, and he enjoys treating all variety of patients from those affected with chronic pain conditions seeking relief to athletes rehabbing for return-to-sport", said Josh Richling PT, DPT, OCS, Chief Operating Officer. "His expertise and knowledge allows our company to better serve the Lincoln community with added services. We are pleased to promote Landon to the director position."
Makovicka Physical Therapy has grown from one to fifteen clinics in 9 short years. This tremendous growth has created opportunities for continued skill enhancement by all staff. The company will celebrate its 10th year in business in 2019.
###
Makovicka Physical Therapy has eight convenient clinic locations in the metro Omaha area, four in Lincoln, and three in surrounding areas. Started in 2009 by Joel Makovicka, PT, DPT and Natalie Harms, PT, DPT, GCS. Makovicka Physical Therapy won the prestigious 2018 Better Business Bureau Integrity Award in Lincoln and Omaha. The company prides itself on being homegrown in Nebraska, and remaining locally owned. Clinic locations and more information may be found at www.makovickapt.com.