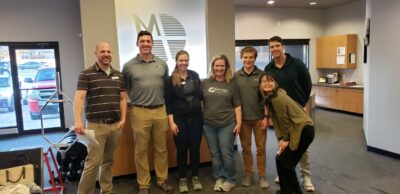 Why Makovicka?  Because they have always been great with my family. It began with my son, Trevor at the 90th St clinic when it was new. Josh Richling was his PT and he worked with Trevor's shoulder until he and Trevor were confident enough to move on.  Trevor and his wife Andrea have been to Makovicka PT's Millard clinic since that time and have been just as happy with their recoveries.
This brings us to today, I am almost done with my PT with Brittni Klostermeyer. She is a SUPER, strong, amazing, tough, and a stick-to-her-guns PT.  She listens, she empathizes and she gave me the strength to dig down deep to do things I didn't think I could do.  I am a big baby and pushed back a lot.  But she kept on pushing.  She is my biggest cheerleader there at Millard.  Not my only, because this is a TEAM!!
It starts when I walk in the door and I get to see Heidi and the big smile of sunshine.  Then, my buddy Landon keeps me on task, jokes with me when I am having a tough day, and is a great person.  Tiffany, who giggles a lot and will make sure I am iced and is a pleasure to see.
I have had the opportunity to work with Adam and Stacey who both are terrific PTA's.  If ever I was confused or didn't understand something they would help out.  Gregg is so very knowledgeable about how the body works and the exercises to make it better.
To coin a phrase, sometimes you want to go, where everybody knows your name…  There has not been a day that I didn't want to go back because Brittni made me believe in me.
MAKOVICKA IS THE ONLY PLACE YOU GO TO RECOVER.
With all the Sincerity in my heart,
Caroline F.