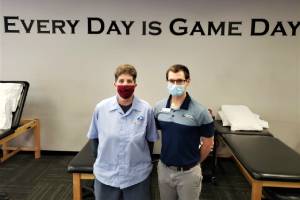 "The pain that caused me to seek physical therapy was my right hamstring, into my calf rendering me unable to walk or go to the gym. One of my friends told me about the Free Consultation at Makovicka Physical Therapy, so I made an appointment, and it was well worth it!
I deliver mail for work, and I walk anywhere from 9 to 18 miles a day; upstairs, through yards, on concrete. I get in and out of my truck all day. If I can't walk, I can't work and that isn't good. 
Jedd Lehman was my physical therapist, and he is terrific. I then scheduled an evaluation, and that was the beginning of my healing process. Jedd suggested some exercises that I can do during work and at home. After a couple of visits, he suggested Dry Needling. I thought he was joking, but no–he was serious. I hate needles, but I went ahead and gave it a try. It was AMAZING! It worked so well, and I didn't mind the needling. Between that and stretching, my pain has nearly disappeared.
My right leg was then pain-free, and my left started hurting. We dry needled that and it is not hurting at all anymore.
The staff and Jedd are fantastic! They are very knowledgeable, very nice and helpful, and quite entertaining.
Dry needling is a great tool for someone having any pain. It is not painful, and you don't feel the needle at all. Jedd and dry needling definitely made it possible for me to walk and do my job! Without them, I would not be able to do what I do. And I'm excited that I can go back to the gym!  I definitely learned how all the leg muscles work and how they affect the knee.
Thanks to Makovicka Physical Therapy, and Jedd!"  Michelle N.
Neither snow, nor rain, nor heat, nor gloom of night stays these couriers from the swift completion of their appointed rounds.