I suffered a serious back injury with associated nerve damage that put my career and an active lifestyle in jeopardy. After two weeks in the hospital and two surgeries, I stumbled into Makovicka Physical Therapy assisted by my wife and using a walker, wondering if I would ever walk normally again.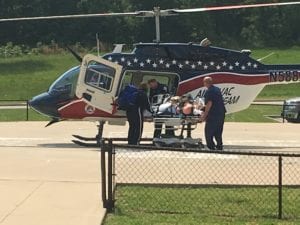 My friends at Makovicka worked with me 2-3 days a week for the past year to get me back on my feet. I was back to work within three months and today walking is no longer a challenge. I am even working on running short distances, something I was pretty sure I would never do again.
I worked with several different physical therapists and they were all awesome! From the therapists to the aides, to the administrative staff, they all sincerely cared about my progress and made me feel welcome every time I walked through the door. I would try to name you all but I would be afraid I would miss someone; you know who you are. Now, as I walk out the door unassisted, I owe you all a huge debt of gratitude. Thank you!" TC
(Photo of TC being loaded into the helicopter…showing the severity of his injury).