Makovicka Physical Therapy recently expanded its occupational health service line to include Functional Capacity Examinations (FCE's), Worksite Evaluation, Ergonomics Assessment, and Work Hardening/Conditioning. The program is called Labor Force Ready, and is conveniently scheduled through a dedicated occupational health coordinator. The Occupational Health Center is located at the Aksarben Clinic located at 63rd & Center in Omaha, or the Pine Lake clinic at 25th & Pine Lake in Lincoln, with the potential for expanded locations in the future.
Employees receive a personalized program to improve function, strength and mobility to get them back to work quickly and safely, to minimize downtime.  Using the state of the art OccuProTM  program, our therapists will be able to identify, quickly and objectively, when it is time to initiate work simulated tasks or begin a work conditioning program.
Functional Capacity Examinations (FCE'S)
The primary purpose of a FCE is to determine an individual's functional abilities and limitations in the context of a safe environment while focusing on productive work tasks. Makovicka Physical Therapy provides this service which is a valuable tool in assessing an employee's safe working abilities and/or establishing baseline abilities for disability evaluations. Our FCE correlates a client's functional abilities to the essential physical demands of their job to determine whether they meet these physical demands.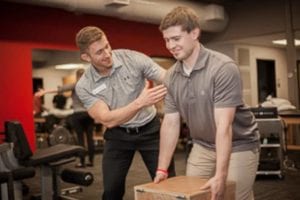 Consistency of effort and reliability of pain ratings are important elements of our evaluation, which is why over 70 separate criteria throughout the FCE help determine if a client is putting forth consistent effort and whether their subjective pain ratings are reliable.
Work Conditioning
Work Hardening and Work Conditioning are terms often used interchangeably, and our program is designed to comprehensively rehabilitate an injured worker to a physical level that allows full duty return-to-work. Our approach provides a solid team effort involving the treating physician, employer, and the insurance representative to return the client to productive employment in a cost effective and efficient manner. Communication is key! Progress notes will involve all members of the work comp team.
Makovicka Physical Therapy's Work Conditioning program is intensive and goal orientated, specifically designed to restore systemic, neurological, musculoskeletal and cardiopulmonary functions. The program may be 4 to 5 days a week, for 3 to 6 hours as advised by the referring physician, until the worker reaches full duty return to work, or maximum medical improvement.
There are two Makovicka Physical Therapy Occupational Health Clinics at this time that provide work conditioning. For more information, contact our occupational health coordinator at 402-884-7453, or in Lincoln at 402-420-4545.